Wednesday, April 17th 5:00pm-9:30pm
enRich Bistro will have the pleasure of Executive Chef Scott Mechura of Buck's T4 in Big Sky, Montana bringing the Mountain fare to the Bradenton locals.  Chef Scott will be preparing the Specials for the evening at enRich featuring his signature Duck Bacon and Elk Rack among other Montana Favorites.
Chef Scott was the first gourmet chef that Rich had the pleasure of working under in Montana and later in Austin, Texas.  Chef Scott has remained a mentor and good friend of Chef Rich over the years and  assisted with the opening of enRich. They are very excited to work together again in Chef Rich's hometown and kitchen!
Reservations are suggested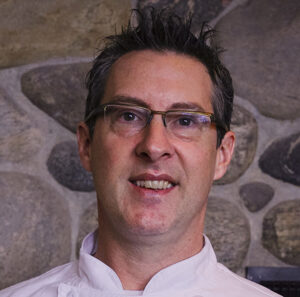 Executive Chef Scott Mechura
Scott Mechura is a well-traveled chef, though he did not choose the road traveled by so many — the one that starts with an expensive culinary degree. Mechura learned his art and craft in a traditional, well-respected way — finding his gurus in the kitchens of elegant restaurants, exclusive resorts and clubs and working at the side of high-profile chefs, including Marcus Samuelsson at Aquavit Minneapolis.